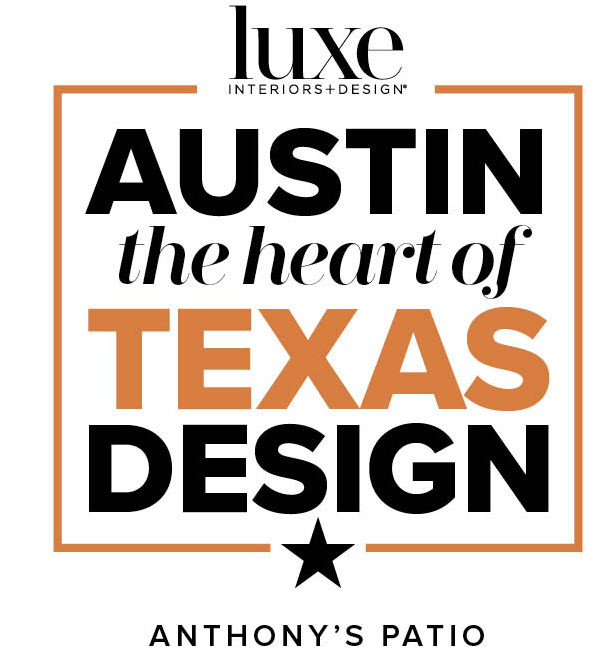 Anthony's Patio is excited to partner with Luxe Magazine for The Heart of Texas Design: Austin 2023 - a celebratory initiative dedicated to showcasing the creativity of the Austin design community.
Unique Furniture With Heirloom Quality
Have you thought about how you can enhance your outdoor spaces with unique furniture, but you haven't known where to look? At Anthony's Patio, we carry high-quality outdoor furniture in Central Texas that you can't find anywhere else. We provide our clients with best-in-class outdoor furniture that defines their space. At Anthony's Patio, we pride ourselves on giving you the products you need to distinguish your outdoor living areas.
Whether you are searching for a special lounge chair to kick back and relax in or a unique set for your outdoor dining space, our selection will have what you are looking for.
Define Your Outdoor Living Spaces
If you're shopping for outdoor furniture online, or with a national retailer, your outdoor space can only be so unique. Don't shop the same as everyone else. With our product selection, you will be able to define your outdoor living spaces just the way you like. The products that we carry are built to elevate your home or business so that you can make it your own.
Stand out from the crowd and shop at Anthony's Patio. We will help guide you throughout the process and will be with you from the decision to the installation.
Quality Products That Last a Lifetime
The outdoor furniture that we provide in Austin, TX is top of the line. We sell outdoor sets and pieces that are made to last. When you purchase items from our selection, you will not be disappointed. The quality and design of each piece are unique and durable. Stop by our showroom today to explore our sophisticated offerings.
Anthony is a straight up guy with a keen eye for design. The furniture is extremely high quality but also pricey. You get what you pay for. I'm looking forward to not having to replace my cheap patio furniture every two years. Can't wait for the set to get here! Thanks and keep up the good work.

Samir P.
Excellent experience working with Anthony at Anthony's Patio. From beginning to end (delivery) such a positive experience. That's it for me, when I need anything outdoor furniture related the first person I will call is Anthony. They sell high quality furniture and back it up with first rate service, can't ask for more.

David D.
I worked with Anthony on new patio furniture at the beginning of our stay at home order. I was desperate to find new furniture that we could get right away and not have to wait 6-8 weeks for. Anthony was so accommodating on helping us find the right pieces from what he had in inventory. We had an issue with one of the chairs when after it was delivered and he resolved the issue quickly and easily. I would highly recommend Anthony's Patio. We will be back!

Christy G.